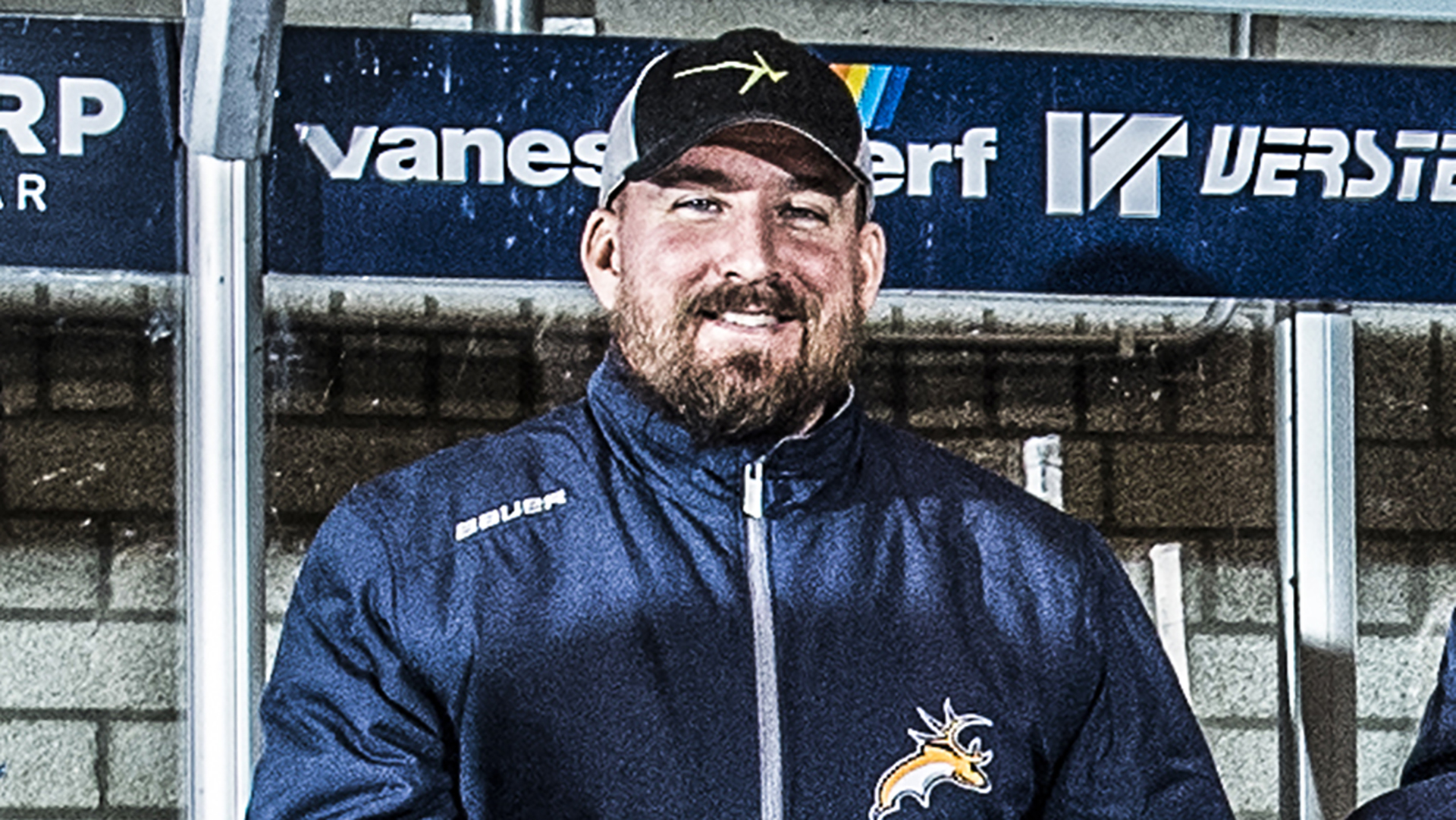 29 september 2018
24 vragen aan… Josh Mizerek
Josh Mizerek is Bo Subr's assistant in Tilburg for the second year now. Time to get to know the 40-year old American a little bit better by asking him 24 questions.
What did you do during the off-season?
'This summer was the first time I've been back home since 6 or 7 years. I got back to Minnesota (Wisconsin) and spend three weeks traveling around seeing friends and family. I started where my sister, husband and her kids live. You drive 4 hours north and that's were I grew up and my best friend, wife and his 5 kids live. You go down 3,5 hours to Green Bay where my parents live. But if you drive 5 hours in Wisconsin you're still talking the same, eating the same food and drinking the same beer which if you do the same here you probably gone to 3 countries.'
How was preseason?
'Preseason was a good test. Everybody's talking about the same roster coming back. But we're short of Parker and short of some other guys due to injuries. It gave our younger guys a chance to take a look. It's nice to stack up against some DEL and DEL2 teams. Once regular season starts we have to hit on all cylinders and be ready.'
How important was it to get a win against Herne?
'You start the season 0-0-0. No points in the pocket so to speak. It's good to get through preseason where you get the chance to see different line combinations, put guys on different positions and see how they respond to that. You want to get through preseason injury free. Unfortunately that didn't happen with the injuries to Mickey (Bastings) and Nick (de Ruijter).'
What type of coach is Josh Mizerek?
'I would like to think I'm an even keel coach so I try to handle the good and the bad as professional as I can. Working with Bo is great. We worked together before I came here. But head coaches and assistants have different roles.'
What's the biggest difference between playing and coaching?
'As a player I can get on the ice and have some effect. Coaching is different. You try to motivate the guys and make sure their mindset is good. As a coach I can't score any more goals, get more assists or block more shots. It's up to the players and I have to make sure they're confident.'
Favorite NHL-organization?
'The Minnesota Wild is on my NHL feed and before that it was the (Minnesota) North Stars. Hockey is King in Minnesota. Self proclaimed it's the land of 10.000 lakes and those lakes freeze over in the winter. It's the State of Hockey. During off-season I had the chance to go to the Wild prospects camp at the Xcel Energy Center and watch the scrimmages and exhibition games. '
Sudden death OT or shoot outs?
'Sudden death for sure. We were in Heerenveen and I ran into Maxime Fortunus, a guy I played with in Louisiana (East Coast Hockey League). It's his first year in Europe and he had no clue. In fact he hates shoot outs.'
Best player you played with?
'If I would pick a guy having played with him, gone to school with him, having sat and playing video games with him until late hours and the type of player he was I would say Dan Boyle. Right-handed defenseman, played in Florida, Tampa, San Jose, New York, won a Stanley Cup with the Lightning in 2004. He was a highly skilled, puck moving defenseman who could put the puck in the net.'
What's your middle name?
'It's Adam. '
Brothers or sisters?
'A younger sister.  She's 36, married, 3 kids (two boys and a girl). When I visited them this summer it was the first time seeing the kids personally.
You came to Holland in 2008. Except for the 2011-2012 season you were here. What made you decide to stay in the Netherlands?
'After the first year I came back to The Hague and ended up meeting a Dutch girl and we've been together ever since then. Stephanie and I've been in Eindhoven now for 4-5 years.'
How was hockey in The Hague?
'I didn't even come at the start that year. I came in roughly in October. I remember the agent I had at that time told me be aware that around the end of the rink that's just netting. That there's no Plexiglas. I think we had 12 imports from Sweden, Canada, Czech, Ukraine and the U.S. It was my first time overseas and coming to the Netherlands with all the people speaking English was an easy transition.
What would be the title of your biography?
'Further and further'. When I was 17 I went from home to play junior hockey. That was a 5-hour drive. College hockey was a 13-hour drive. First year pro was a two and half day drive. And after 8 years as a pro in the U.S. it was a 12-hour flight to play in The Hague.  So it's still further and further.'
P.K. Subban or Drew Doughty?
'Drew Doughty. Skill and point production wise he's the better of the two.'
What's #1 on your bucketlist?
'I don't have a real number one thing. I consider myself simple. Where I'm from (Northern Minnesota) life's good as long as you have a fish fried or a venison steak with a cold beer.'
If you have a day off, how do you spent that day?
'In season it's hard to get a day off because there's always something to do. That's why summers are crucial to recharge the batteries and spend some time with the family. But usually it's a Monday that I don't have to come to the rink. So if I somehow someway can catch a Minnesota Vikings or Minnesota Twins game on Sunday that's a bonus.'
What's the last movie you have seen?
'I can't remember. I watch Netflix. The last thing I was watching was 'Last chance u'.'
Best city you've ever visited and why?
'Duluth is very pretty. Just under a hundred thousand people live there. You don't know what you got till you go away. If you google and go to the images Duluth sits on at the base of a hill. It overlooks Lake Superior, the biggest fresh lake in the world. If you like the outdoor or the hunting it's worth checking.'
Worst thing you've ever said to a coach or referee?
'I can't think of one specific incident. I probably had my fair share of the F-bombs, specially early in my career.'
Favorite athlete in any other sport than hockey?
'Growing up I played basketball, American Football, soccer, baseball and golf. So in every sport I had my favorites. In basketball I watched Michael Jordan. Baseball I was a big Rickey Henderson fan. Football wise I followed the Vikings so probably Randy Moss. Tiger was at his prime back then.'
Nickname in the dressing room?
'Usually when you transition to coach it's coach or Josh. As a player it's always the shorter version of your last name so for me it was Miz.
Berrie Aarts wants to know which Dutch words you already know?
'Who!? Rietje…After last year's 24 questions by him I looked at the translation of Straw and start calling him that. But to answer his question: 'Ik spreek slecht Nederlands.'
Which player, coach or staff member should be next to ask 24 questions?
'Ryan Collier.'
What is it that we should ask that player, coach or staff member?
'I know he has family here and grew up here. But what brought him back here?'