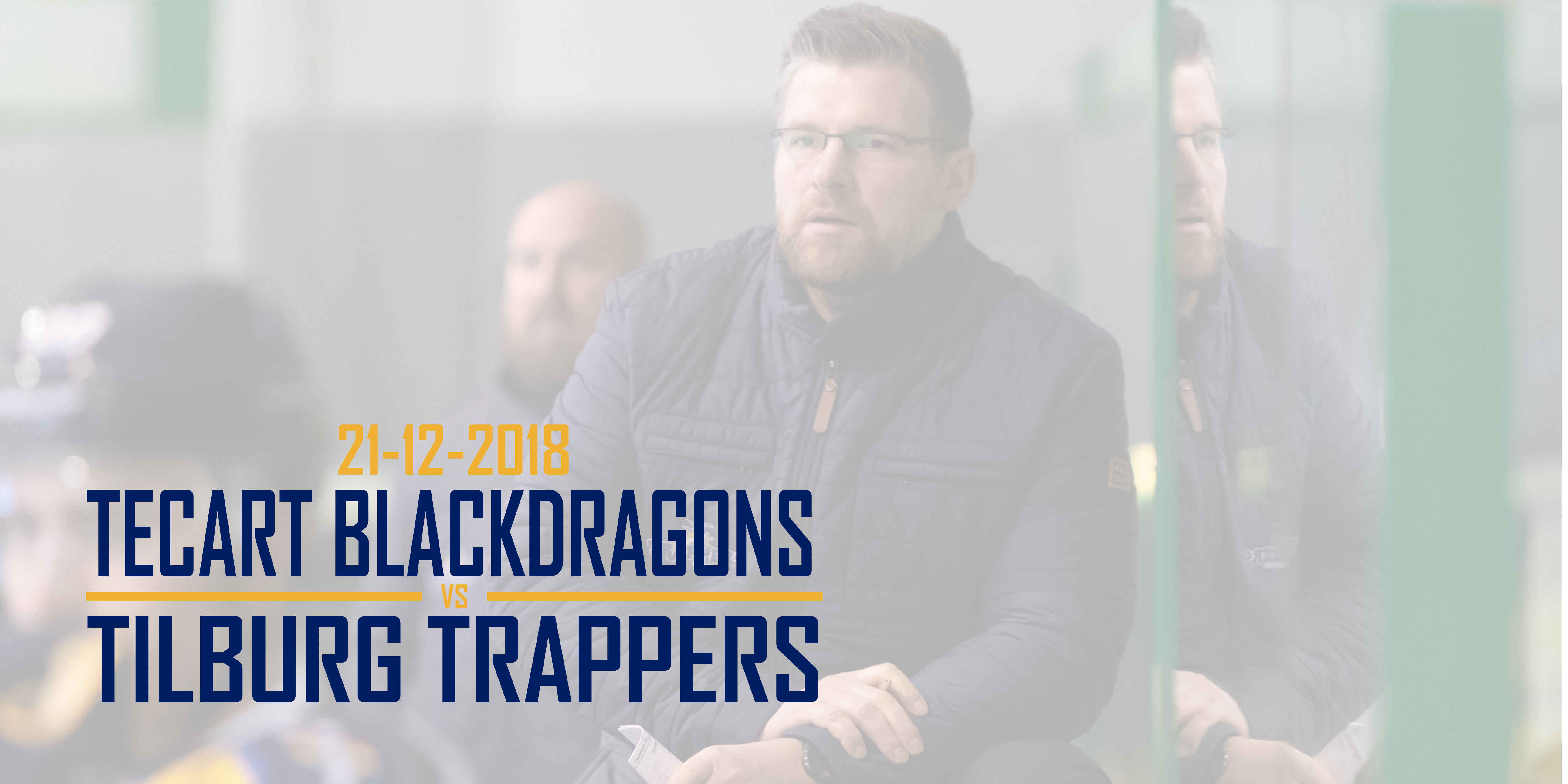 20 december 2018
Tussenbalans van Trappers: wederom op titelkoers
De eerste seizoenshelft in de Oberliga Nord zit erop. Na 24 speelronden is Tilburg Trappers de trotse koploper met een voorsprong van 12 punten op de eerste achtervolgers, Moskitos Essen en Hannover Scorpions. Coach Bo Subr maakt het tussenrapport op en kijkt vooruit naar vrijdag als zijn ploeg op bezoek gaat in Erfurt.

Zondagavond in Herne speelde Tilburg Trappers zijn tweehonderdste wedstrijd (156 keer winst en dus 44 nederlagen. Doelsaldo: 945 goals vóór en 464 tegen) in de Oberliga. In de afgelopen twee duels (Halle thuis en Herne uit) liet de geelblauwe brigade drie punten liggen. Desondanks ligt men nog altijd op titelkoers.
We zijn halverwege het seizoen. Wat is jouw indruk tot nu toe?
'We had a pretty good run so far. We're in 1st place. I don't think we've ever been there at this time of the year since we joined the Oberliga. We have a pretty good lead. Even though we lost some points this weekend. That's good if you look at all the guys we were missing through the first 24 games of the season. We played with the young guys in roles they have never had and still were able to win hockey games. So the first half of the season has been very good.
At the start we were OK. But in October and November we played some very good hockey. Especially after the international break when we got some of the injured guys back we had a span of game in which we dominated and played very good. The start of December hasn't been that great if you take the last week in account. We started both games (against Halle and Herne) pretty good. Managed to get a lead but thought it's going to be easy again. Halle and Herne didn't quit playing and fought back. We helped them to score goals and take some points from us. Still I think it's good for us to have some tight games and not win 7-1 or 8-2. If you have it too easy during the regular season you'll have a hard time coming into the play-offs.'
Zelfs met één import in de gelederen lijkt Trappers niet te stoppen. Wat is het geheim?
'There were certain times I really thought about another import. Especially when we had a lot of injuries. On the other hand we decided to give a chance to the young guys and they did well. Right now we don't need a second import. We have a good enough depth in our team for the Oberliga. Some of our younger guys (that aren't so young anymore) have taken on different roles. We have our veteran players that have been doing good jobs. I think we have good balance in our lineup.
In October we found ways to win hockey games even though we weren't the greatest team. The teams behind us lost some points here and there and that gave us the 12-point lead. That's something they have to worry about. We have a lot of good teams in the league this year where anybody can take points from anybody on any given night. If you look down south it's a whole different competition there. Regensburg's leading with 57 points and you have four other strong teams I think.
The teams that are in a play-off spot right now are the teams I expected to be there. It's going to be a tight race. Essen and Hannover are second with 46 points. Halle is number 7 with 40. That's only two hockey games. It can go very quick.
Essen and Halle will be coming strong in the second half if you look at the way they are playing the last month and a half. I expect them in the top-4 at the end of the regular season together with one of the Hannover teams. Herne got a lot stronger from the team that started the year. They got good goaltending with Bjorn Linda now. Hamburg has a better team than they had in the past. If they're complete and get good goaltending they can be dangerous. Rostock have some good experienced players. That they've been doing as well as they are is a bit of a surprise to me. I didn't think they would be that close behind Halle, Hamburg and Herne.
Leipzig will come around in my opinion. They'll get better as the season progresses. They had some struggles with their rink in the summer. They were starting their preparation a bit later. They'll crack the top-6. Don't forget there's still a lot of hockey left. Duisburg have some pretty good young players on their roster but aren't able to play consistent hockey on a regular basis.'
Wat was de beste wedstrijd in deze ijshockeyjaargang tot dusver?
'We played really well against both Hannover teams at home. Our mental preparation was very good. The practices leading up to those two games were good. We knew what we had to do. The focus of the players was there. Even with some of the stuff that the Indians tried to do. Sending tough guys out to fight our top scorers. From the first shift on we had control of the game and we didn't stop playing. We were consistent through nearly 60 minutes.
But we played quite well in Halle where we had to deal with a lot of injuries, a long bus ride and the suspension of Ivy (van den Heuvel). Getting points there against a good hockey team isn't easy. Even in Leipzig we had a good game although we lost that one in overtime. I liked the start of the home game against Füchse Duisburg as well. After the first period we were up 5-1 and took the foot of the pedal a bit but still were able to score 3 more goals.'
We hebben het net over de beste prestatie gehad. Wat was het zwakste duel vooralsnog?
'It's hard to say. Losing the points to Berlin at home. That wasn't our top game. Last Thursday here against Halle wasn't as good as we wanted it to be. And the game we lost in Duisburg wasn't great. We were just not crisp. We were late on some stuff. One of those three would be our worst game I guess.'
De meest waardevolle speler wordt normaal gesproken aan het einde van de rit gekozen. Maar op wie zou de keuze nu vallen?
'A tough question to answer. We certainly have some guys playing well the first half of the season. For most parts Mitch Bruijsten has been a very dominant player. He would surely be one of the candidates.
In 24 wedstrijden moesten Ian Meierdres en Ruud Leeuwesteijn 71 keer de puck uit het net halen. Een gemiddelde van bijna drie tegendoelpunten per wedstrijd. Echter in de laatste twee ontmoetingen incasseerde Trappers tien treffers. Wat is er gebeurd?
'We allowed too much goals in those games against Halle and Herne. Last year we had the lowest goals against average in the league. Right now we're second. Only Essen has a better record. We have to tighten up defensively. That starts with our forwards. There's a lot of things that go into it. Puck management and work hard without the puck are just two of the many things to improve our goals against average.
We're a team that wants to play hockey. We're not sitting back and play defense. We want to score goals. If you look at the last 12 games we score an average over 6 goals and we allow about 3 goals against. We have about 40 shots on net on average and we get 24 against. Statistically and playwise we're in charge of most of the games we were in. And last but not least, in the big games against good opponents we played well defensively. So in all it doesn't worry me too much.'
De vijfentwintigste wedstrijd van het seizoen gaat tegen TecArt BlackDragons Erfurt. Een duel dat op papier redelijk probleemloos in winst zou moeten worden omgezet. Ben je het daarmee eens?
'We're the clear favorites on paper. They have a pretty good structured team, they work hard and they are pretty good in their own rink. Besides that it's a long trip. Still our focus is to win. But it's never easy. Big thing is make sure you get a lead and if possible a more goal lead.'