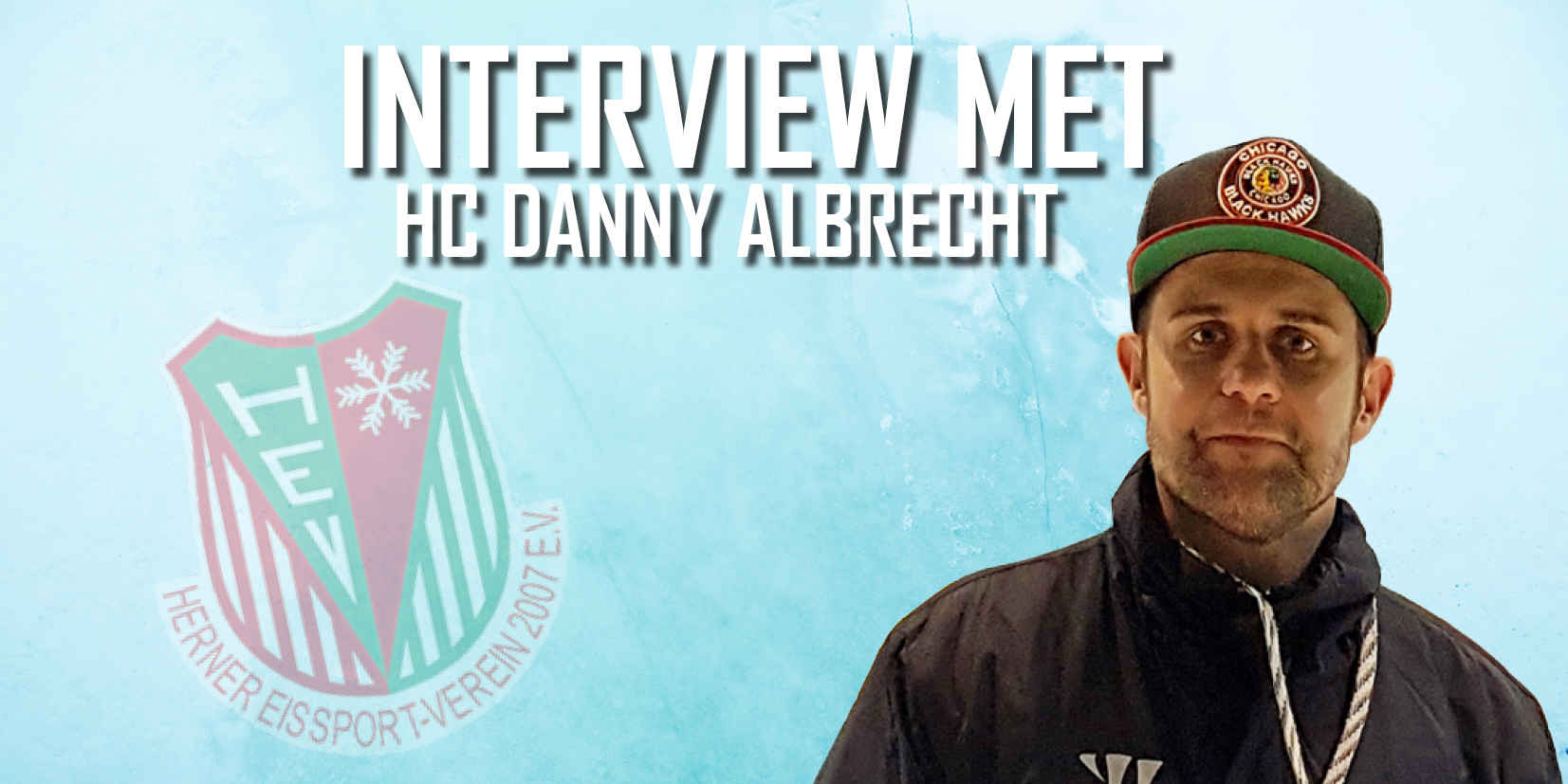 12 april 2019
Danny Albrecht has no regrets
On September 13, 2018, Danny Albrecht's playing days were over. After 12 surgeries his body couldn't manage it and he called it a career. The next day he found himself a new job: coach of Herner EV.
No one would have blamed the center/right winger for walking away. 'I didn't stay healthy long enough during my career. I had surgery on both shoulders, both knees, both ankles. In the summer I got a ball in my face and broke my cheekbone. I had multiple surgeries on that. Besides that I had a minor surgery on my knee, which blew out 4 years ago. That didn't work out very well so that made the decision to retire a little bit easier.'
IRON CURTAIN
Danny Albrecht was only 5 years old when under a new era of Soviet policies of glasnost (openness), perestroika (economic restructuring) and taken further by Soviet leader Gorbachev, In May 1989, Hungary removed their border fence and thousands of East Germans escaped to the West. The turning point in Germany, called 'Die Wende', was marked by the 'Peaceful Revolution' leading to the fall of the Berlin Wall on 9 November 1989.
He was born in Bad Muskau, a small town right on the German-Polish border in former East Germany. The two countries are separated by the Lusatian Neisse, a left-bank tributary of the river Oder. 'At the time I was born there was no hospital where kids were born. So I grew up in the in Weißwasser, which is about 7 kilometers away. I lived there until I was 16.'
HOCKEY CAPITAL
With just over nineteen thousand inhabitants, Weißwasser is a pinhead on the German map. The glass city from the German state of Saxony eats, sleeps and breathes ice hockey. With twenty-five national titles, SG Dynamo Weißwasser is the most successful hockey team from the former DDR ice hockey. 'In East Germany the winters were pretty cold. I grew up playing hockey on the outdoor lakes.'
'Weißwasser is a big hockey town. The number 1 sport there is hockey. The question wasn't if you're going to play hockey. The question was when you're going to play hockey. We don't have anything around. I played a little bit of soccer, but everybody from my childhood played hockey.'
TIMING
Albrecht began his professional career at the age of 16 in Weißwasser. 'It was in the 2.Bundesliga at that time. I only played 6 regular season and 2 playoff games for the pro team and the rest I was with the junior team. That year the team went bankrupt so my 3-year deal with them was done.
After that 'false start' Albrecht signed a contract with the Haßfurt Hawks in 2002. 'When I got out of juniors I had the best numbers in the league. They called me talented but talent is not everything. The step from juniors to pro is a big step. I see that in my team right now. You have to make the right decisions. You need somebody to help you. You need to have a good coach, the right place where you feel good.'
Like everything in live, it all comes down to timing. Six times Danny went to a DEL-camp. In Germany younger players can get a 'Forderlizenz' by a DEL team, so they have the chance to play either for their home team or the DEL team. 'When I was younger I played 'Pokal games' for Krefeld Penguins but at that time all teams in Germany had 11 or even 12 imports on their roster. So for German players it wasn't that easy to make the team.'
NO REGRETS
Albrecht played 410 regular season and 54 playoff games for Bremerhaven, Regensburg, Essen, Schwenningen, Weißwasser (all DEL 2) and 235 regular season and 28 playoff games for Frankfurt, Kassel, Duisburg, Halle and Herne (Oberliga). In 2003 and 2005 he helped the German national team at the U-18 and U-20 World Championships.
'I loved it in three cities. Kassel was my number one. Great hockey city, crowded barn and fantastic familial organization. Same in Halle but their fanbase wasn't that big. But the staff and management were familial and cool. And of course Herne which is my 'lost home'. Close to my wife and family with an organization as familial as I never had before.'
What could have been if he had the right attitude stayed healthy and made the right decisions? 'You never know. I thought talent is more than working. You get a little bit smarter when you're getting older. Still I don't regret it because it would mean I didn't have my wife and kids right now. Some things are more important than hockey.'
GAME OVER
For the transition from being a professional athlete to anything else is no textbook how to take that next step. Several retired players know that from experience. 'It's the hardest decision because playing hockey feels comfortable. You've been doing it for so long. I think that's why so many guys just stay in it because that's all they know and that's what their expertise is.'
Albrecht had little time when Herne's management asked him to replace the sick Herbert Hohenberger. What's the biggest difference between playing the game and being a coach? 'The things you hated on a coach you see different as a coach. The hardest part this year was that I played with all the guys and the players had to understand that I'm no longer the player next to them. But, I'm the coach for them right now.'
BJORN LINDA
When it comes to both getting into the playoffs and then having success in them, it's all about which teams are playing their best hockey at the right time. The team that is playing extremely well right now is Herne. The timing of their hot streak is absolutely perfect. 'We were a bit inconsistent during the season. We had a bad November and December but became better from late January on.'
Speaking of getting better team starting masked man Bjorn Linda is once again doing everything he can to help his team. Like he always does, Linda is starting to steal games for Herne. The 29-year-old puck stopper is 17-13-0 on the season with a 3.10 goals against average and one shutout. In the play-offs he's a perfect 6-0 with a 2.63 GAA. 'It's the best step we did. We started the season with two young goalies and knew it wouldn't be easy. He stabilized us a lot by his experience and the way he plays.'
TWO CLEAN SWEEPS
Although Herne entered the play-offs as the number six seed they wasted little time advancing in them. Proving themselves a team built for the postseason they swept heavily-favored Regensburg in the first round, including a convincing 1-5 triumph in game 1 at the Donau Arena. 'We were always the underdog. Always a bit underrated by the teams from the South. Which helped us a lot doing what we did. Once we won that first game, it got them off a bit and they never recovered.'
The Cinderella story continued when Herne knocked off Oberliga South Meister EC Peiting in 3 games. 'It was a tough series that could have gone either way. Regensburg was a complete different team than Peiting. Regensburg's a speedy team with a lot of young guys who put pressure on you. Peiting was the totally opposite. A bunch of smart old guys and a great powerplay.'
TILBURG TRAPPERS
Now Herne is facing the three times Oberliga Meister Tilburg Trappers. 'It's going to be tough. Tilburg's the complete package: they're skilled and fast. They've experienced players that see the ice very well. It's going to be a tough series. But you never know.'
Just like in the Regensburg and Peiting series Herne will start on the road. 'We handled the traveling pretty well in the first two round. So if we can't win game 1 we might drive 8 hours to get to Tilburg for game 3. For sure the hardest part playing Tilburg is to win in Tilburg. I guess every game will be a sell-out. They have good fans here. Their building is always loud. We know that if we want to have a chance against Tilburg, we have to win at least one game away.'
Danny will not predict the outcome of this series. 'In playoff hockey, anything can happen. Like I always said we can't be cocky. We'll take it game by game. We'll try to start well. Look from every 10 minutes to the next 10 minutes. Do the little things right. We just have to battle as hard as we can and see what happens.'